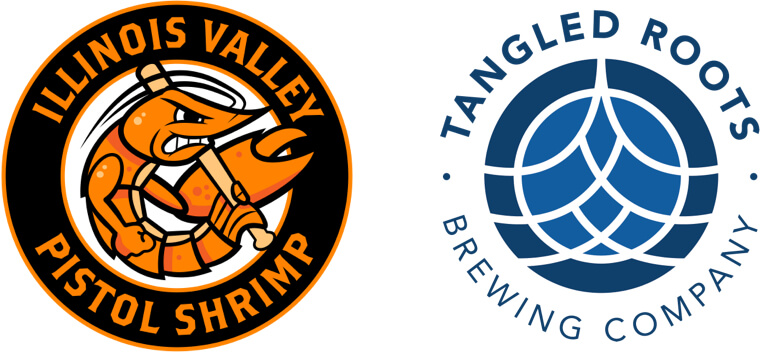 Illinois Valley Pistol Shrimp
Tangled Roots Brewing Company has partnered with the Illinois Valley Pistol Shrimp, a summer collegiate baseball team, to create Short Hop, a specialty golden ale, which has become a fan favorite to enjoy during the baseball season. The beer is available at Pistol Shrimp games throughout the baseball season as well as in select retail locations, including, The Lone Buffalo in Ottawa. Tangled Roots Brewing Company is excited for this continued partnership and welcomes all fans to enjoy a game at the newly renovated Schweickert Stadium at Veterans Memorial Park in Peru, Illinois.
About the Illinois Valley Pistol Shrimp: The Illinois Valley Pistol Shrimp are an amateur wood bat summer league baseball team, made up of top college players from around the country who aspire to a career in professional baseball. Established in 2019, the Pistol Shrimp are part of the historic and nationally renowned Prospect League, a 17-team league that spans the Midwest from Iowa to Pennsylvania and down to Tennessee. The Pistol Shrimp led the League with 3 draft picks in 2022, including a first round pick (Noah Schultz, #26 overall). For more information on The Pistol Shrimp, go to http://pistolshrimpbaseball.com/.